Sunday, March 22, 2009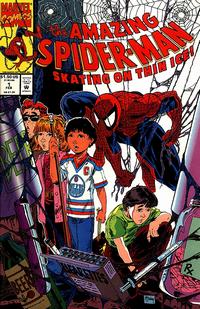 But Oilers jersey on the cover of Spider-Man comic is the least of its treasures
While attending this past weekend's Edmonton Comic, Toy and Collectible Show, I managed to procure quite the find.
Way back in 1990, Marvel Comics partnered with the Canadian Association of Chiefs of Police to produce a comic series entitled "Skating on Thin Ice", which was given away to kids for free to teach them about the dangers of drug abuse.
Issue #1 of that series has proven to be quite popular amongst Edmonton Oiler fans due to the depiction of an Oilers jersey on the cover (it's also worn by Allan, the lead supporting character of the story, throughout the book).
However, the Oilers jersey is actually the least of the book's treasures.
Also featured in the story is a true hockey legend -- and one of the unrecognized greats of hockey history, Herb Carnegie.
As a member of the Quebec Aces, Carnegie proved to be a promising young star.
He once garnered an invitation to the New York Rangers' training camp, but didn't make the team despite a fantastic performance. But the year was 1948. Despite Jackie Robinson breaking baseball's colour barrier the year before, hockey just wasn't ready to follow suit.
Carnegie would rebuke an offer to play for the Rangers' farm club, and instead returned to the Quebec Aces where he posted hall-of-fame worthy numbers. He would, at one point, play on a line with a young Jean Bealiveau, who would later describe Carnegie as "superb".
In years more recent, Carnegie founded the
Future Aces
, a group that helps develop young people and helps them make a difference in their communities.
A comic book seems an unlikely place for Carnegie to receive his due, and truth be told, he still hasn't. Unfortunately, Carnegie will join a legion of hockey figures -- individuals such as Golden Bears coach Clare Drake -- who will never be properly enshrined in the Hockey Hall of Fame merely by virtue of never having played in the NHL.
Posted by

Patrick Ross
at 4:56 PM
No comments: